Emerging from the midst of the post-grunge void, The Sidewalk Regrets possessed a raw intensity that could tear your heart in 2, but at the same time was strangely empowering. This release is an important missing chapter in the Australian underground music history.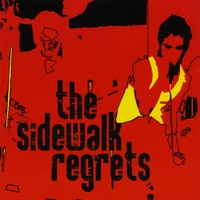 REVIEW IN SLEAZGRINDER (CLICK HERE TO READ)
REVIEW BY GEOFF PARKS: This is not a happy ending, for their are no happy endings in the story of The Sidewalk Regrets – just the ending of Jamie Thompson's life, and that which remains for the living to remember. Thompson, singer, songwriter, mad genius, and sad soul, by all accounts, has a voice that could raise the dead and give them chills. It's his voice, his words, that cast their magic, a darkly potent spell, over this collection of all that should have been. This collection is the sounds of the recollection.
Taking their name from The Birthday Party's Deep in the Woods, ("The sidewalks are filled with love's lonely children / The sidewalk regrets that we had to kill them"), TSR was, as cellist Ben Tolliday commented, "loud, loose, and very rock." Reclaiming the humid, swampy Brisbane air from ridiculous retards like Regurgitator, Powderfinger, and Savage Garden, TSR hearkened back to days when The Saints sprayed their sweat over Paddington living rooms and The Beasts of Bourbon created mayhem and havoc in the shittiest bars of the inner city. Listening to this collection, they sound like nothing that was being played on the radio or in the pubs in the late 1990s when I lived in Brisbane and considered myself 'informed'. Until now I'd heard only battered cassettes, but this is something more. Mastered by Bryce Moorhead, after months of effort by former bassist Thomas Madden and others tracking down the original recordings, what remains are 14 tracks of self-abuse, loneliness, lust, madness, addiction and possibility, potential – fucking magic moments that open up spaces where we can dream that for a instant everything might have been different. And then it all comes back.
As much as this is hard to listen to, sonically (guitars gone shooting into space, repeated bass lines that burst veins, that blending of McCullough, Curtis, and Cave in Thompson's howl), and, I imagine, for those who knew Jamie personally, there are also sublime grins, as if TSR knew that all this seriousness needed some levity if only to make itself more serious. Take the lyrics from the opener "All the Romans" where Thompson half croons, half cries, "It's hard to be lonely when you've got not friends and country men / It's hard to be alone and hard." Ain't that the truth? And it wasn't all interiority, as "Gallipoli" strips back the myth of the bronzed soldier sacrifice and reinforces, in almost military timing, the lining up and the piling up of bodies.
And so preserved, reserved, presented are people's lives, one person's life, mixed down into that which remains – memories, art, the pursuit of the creative dream that gives life, gives breath, gives hope, when it all seems, at the time and in retrospect, hopeless. On TSR, something bitter, brutal, yet alive remains. These musicians could have been contenders. That now they are not takes nothing away. A sonic memorial then, not just to remind us of the fallen, but in recognition "of meritorious service" for those who stood and played, side by side, into the darkness.
-Geoff Parkes
Links